Building Up: Let's Talk About Roof Decks
fact: buyers in philly love a roof deck
Myself included. Part of what sold us on our home was the roof deck. When we show homes with a roof deck buyers get visibly excited & can't wait to get up there to see what the view is like. It's the one feature we always advise builders we work with to add on because it is such a great selling point. The allure is real. Since they are so popular let's talk about the types of roof decks you are likely to come in contact with while searching for your new home.
fiberglass
Fiberglass roof decks are most common in new construction. In this type of roof deck the roof & deck system is one & the same. This makes any future maintenance really easy because there are no accessibility issues. The lifespan of a fiberglass roof deck with proper installation is anywhere from 20-30 years.
Fiberglass roof deck at 2721 Cambridge Street in Philadelphia.
pressure treated wood
Pressure treated wood is probably the most common as it's the original deck material. Roof maintenance can be an issue on these types of decks since accessibility to the roof is limited. You also have to maintain pressure treated wood with regular cleaning, sealing & staining to extend it's life span & keep the wood looking beautiful. Pressure treated wood has a smaller up front cost, however, it does cost money to maintain.
Roof deck at 906 N. 4th Street in Philadelphia.
man made composite product
This would be a roof deck built with Trex or a similar man made product. The cost up front is probably double pressure treated wood but there is no maintenance so over the life of the deck you will save time & money. Roof maintenance can be an issue on these types of decks since accessibility to the roof is limited.
 A roof deck made from a composite product in Chicago.
Photo from Houzz
green
Green roofs have soared in popularity in the U.S. over the last few years. A true green roof is one in which most of the surface of the roof is covered by vegetation; usually hardy perennials or sedums which require very little maintenance. Green roofs are not only beautiful they serve a variety of functions. They reduce storm water run off, reduce heating & cooling costs, filter pollutants out of the air, create a habitat for birds, bees & other beneficial insects & will extend the life of the roof by preventing UV damage. They are also peaceful retreats for the people who own them. You can get a custom green roof designed especially for your home or there are companies specializing in modular systems that come with fully grown plants. These should be installed by a reputable contractor who understands these types of systems.
Aerial view of green roofs in Hamburg, Germany where they are utilized quite frequently.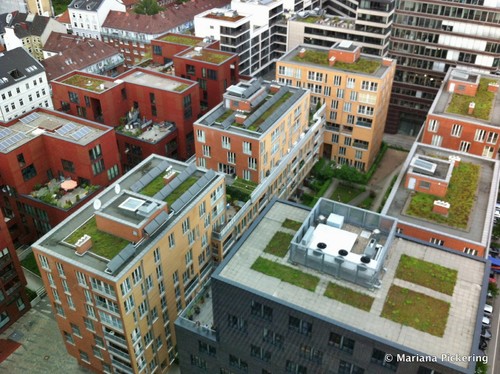 Photo from Houzz
search for a home in philadelphia with a roof deck:
Price Range:
$

250,000

to $

2,100,000

Price Average:
$

549,920

Size Range:

691

to

4,730

Sq. Ft.
Size Average:

1,652

Sq. Ft.
No listings available.
© 2014 TREND, All Rights Reserved. Information Deemed Reliable But Not Guaranteed. Listing information last updated 01/22/2019 at 02:33:27 UTC.