Philadelphia homes for sale
Home
Jordan Brody & Co.
Archive for February, 2015
our very own harbinger of spring The P.H.S. Flower Show starts today. Which means spring is just around the corner & we get an early taste with the Flower Show - always a sight for sore eyes after a long winter. This year the show is inspired by the films Disney & Pixar. According to the PHS website "Every guest will feel like a star and every garden a magical setting as the world's great floral and landscape designers capture the beauty...Continue Reading!
c.m.a. = comparative market analysis A C.M.A. is research performed to find out the prices at which similar properties in the same area recently sold, properties currently on the market & properties that recently went under contract. Here's what happens when someone calls us & tells us they are interested in selling their home. We start asking questions - like address, number of beds/baths, do you have parking, is your home updated, do you have any outdoor space & what is the square footage (sometimes...Continue Reading!
12 new construction homes in rittenhouse square Van Pelt Street is one of those cute little side streets that Philadelphian's love where homes are rarely offered for sale. When they are offered for sale they tend to make lists, like this one of the best houses that sold in Philly in 2014. Well now there are 12 new construction homes being built on Van Pelt designed by the illustrious Cecil Baker. See the Western Union Building, York Square & Scannapiecos forthcoming 500 Walnut. van pelt...Continue Reading!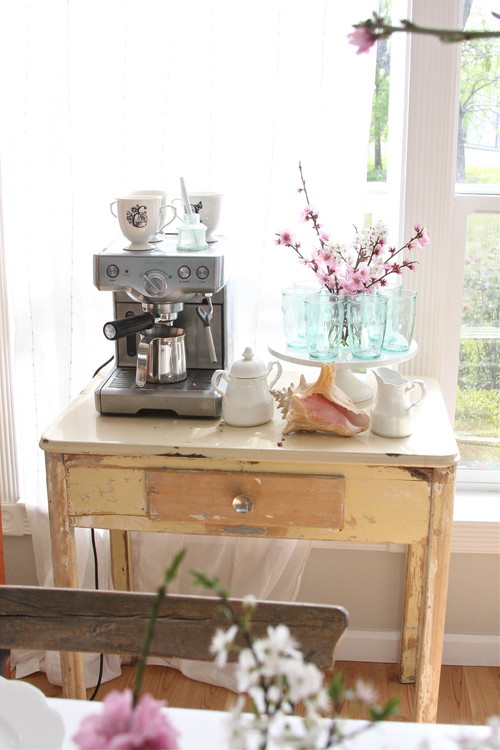 because...coffee is the best You are probably asking yourself why set up a coffee bar in your home when Philly is literally teeming with coffee shops. Like La Columbe's roastery/distillery mash up in Fishtown to Ultimo Coffee ranked America's #1 coffee shop back in 2013 by The Daily Meal & every unique spot in between. Here are my reasons. 1. You can try out new beans (like this one which you can find in a Thai elephants #2). 2. You can make killer coffee when you have visitors (unless, of...Continue Reading!
see how philly's zestimates stack up I just read an interesting article from the L.A. Times about the accuracy, I mean, inaccuracy of Zestimates. Shocking, I know. Obviously, I moseyed on over to the Zillow website to see if I could figure this out. According to Zillow there is a 7.8% median error in Philadelphia. We are considered "Good" with a 3 (out of 4) star rating. (see below) I have been looking at this backwards, forwards & sideways because the information presented is convoluted &/or missing....Continue Reading!
from walnut to callowhill - open permits everywhere I can't remember a time when this many new construction homes were being built in Old City. the estates at walnut street - 111-117 walnut street Right at the edge of Society Hill are these spectacular homes, The Estates at Walnut Street, by Moto Designshop (also located in Old City). Their design work is so spectacular that they won an AIA award back in 2012 before these homes were even built. With interior courtyards, 2 car...Continue Reading!
don't let the kardashian-west-jenner fleet of cars have all the fun We've been seeing matte black everywhere from the inside of a fridge to the exterior of a Victorian claw foot. Looks like matte black is the new black. set the table Matte black dinnerware from Bed Bath & Beyond. $59.99 for a 16 piece set. You know you have a coupon. set the mood Matte black dome light from Access Lighting. Get it on Overstock.com. set it over a sink This matte black faucet by Brizo is hot. give a...Continue Reading!
 new construction home with 1 car garage parking This is a pretty fabulous home & whoever edited these photos made it look like a real estate dreamscape. Soft, inviting....can I move in? Anyway this is a big house (almost 3,000 square feet) with garage parking & a full first floor. The finishes are sleek & modern without feeling hard or cold & I love the plethora of windows...with or without the editing you can tell this home lets in a ton of...Continue Reading!
restaurant week in east passyunk at the end of february The 3rd annual East Passyunk Restaurant Week runs from February 22nd - February 28th. If you think Center City is the only game in town for great dining options, think again! We're a foodie city & East Passyunk does not disappoint. Something tells me Townsend is probably already booked up so if you can't get a reservation for dinner go for a drink before or after your dinner. It's one of my favorite spots in...Continue Reading!
sprinkle poppy seeds around for a spring show Did you know that Valentines day is the perfect time of year to sprinkle poppy seeds in your Philly garden? Poppies need a good hard freeze to germinate. I sprinkled these varieties this time last year in the pots on my roof deck & forgot about them. I didn't think anything was happening until early Spring when I saw small little green shoots popping out all over the place. 1. Sprinkle poppy seeds in a...Continue Reading!