Philadelphia homes for sale
Home
Jordan Brody & Co.
Author Archive
City homes don't have big foyers with the space for a big round table with a big floral arrangement or a large upholstered chair for getting your shoes off & on. In fact, they don't have room for much of anything, but that doesn't mean you  have to ignore the space completely. If your front door opens right up into the living room visually defining the "entry zone" makes a big difference even if its just psychologically. Setting up a small table or bench, a...Continue Reading!
 single family home on 17th between spruce & pine streets Completely renovated homes like this one at this price point are rarely available in Rittenhouse Square. Check it out. 340 s. 17th street details: $849,000 3/3/1 $8668 annual taxes 2,200 square feet 1 year pre paid parking [gallery ids="9433,9434,9436,9437,9438,9440,9441,9442,9443,9444,9445,9448,9449,9450,9451"] [DispletListing listings="yes" price_navigation_prices="750,1000,1250,1500" minListPrice="500" maxListPrice="5000" zip="19102,19103,19107,19147" property_type="Rowtownhouse"]Continue Reading!
spring is almost here Every March the market heats up (although we seem to have gotten an early start this year) & showing houses becomes so much more pleasurable. No snow boots to take off when you get inside, no frozen lockboxes, parking spots to spare (we're looking at you South Philly) & no icy conditions to navigate from property to property. In between showings, negotiations & settlements this is what we look forward to in the month of March in Philadelphia. what we're...Continue Reading!
our very own harbinger of spring The P.H.S. Flower Show starts today. Which means spring is just around the corner & we get an early taste with the Flower Show - always a sight for sore eyes after a long winter. This year the show is inspired by the films Disney & Pixar. According to the PHS website "Every guest will feel like a star and every garden a magical setting as the world's great floral and landscape designers capture the beauty...Continue Reading!
c.m.a. = comparative market analysis A C.M.A. is research performed to find out the prices at which similar properties in the same area recently sold, properties currently on the market & properties that recently went under contract. Here's what happens when someone calls us & tells us they are interested in selling their home. We start asking questions - like address, number of beds/baths, do you have parking, is your home updated, do you have any outdoor space & what is the square footage (sometimes...Continue Reading!
12 new construction homes in rittenhouse square Van Pelt Street is one of those cute little side streets that Philadelphian's love where homes are rarely offered for sale. When they are offered for sale they tend to make lists, like this one of the best houses that sold in Philly in 2014. Well now there are 12 new construction homes being built on Van Pelt designed by the illustrious Cecil Baker. See the Western Union Building, York Square & Scannapiecos forthcoming 500 Walnut. van pelt...Continue Reading!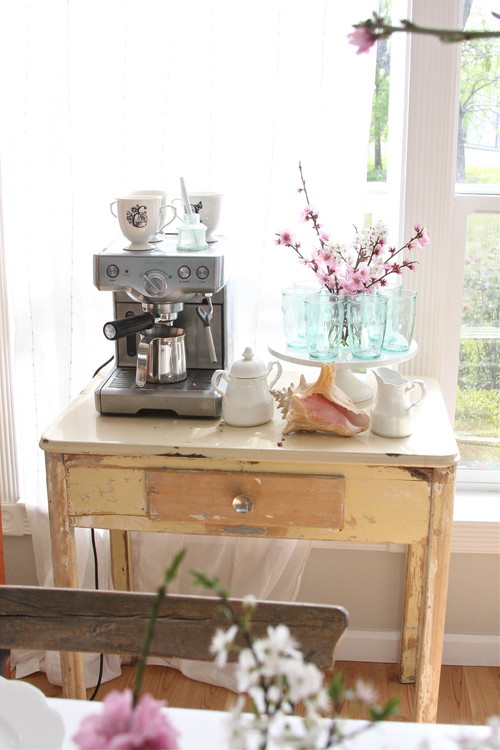 because...coffee is the best You are probably asking yourself why set up a coffee bar in your home when Philly is literally teeming with coffee shops. Like La Columbe's roastery/distillery mash up in Fishtown to Ultimo Coffee ranked America's #1 coffee shop back in 2013 by The Daily Meal & every unique spot in between. Here are my reasons. 1. You can try out new beans (like this one which you can find in a Thai elephants #2). 2. You can make killer coffee when you have visitors (unless, of...Continue Reading!
see how philly's zestimates stack up I just read an interesting article from the L.A. Times about the accuracy, I mean, inaccuracy of Zestimates. Shocking, I know. Obviously, I moseyed on over to the Zillow website to see if I could figure this out. According to Zillow there is a 7.8% median error in Philadelphia. We are considered "Good" with a 3 (out of 4) star rating. (see below) I have been looking at this backwards, forwards & sideways because the information presented is convoluted &/or missing....Continue Reading!
from walnut to callowhill - open permits everywhere I can't remember a time when this many new construction homes were being built in Old City. the estates at walnut street - 111-117 walnut street Right at the edge of Society Hill are these spectacular homes, The Estates at Walnut Street, by Moto Designshop (also located in Old City). Their design work is so spectacular that they won an AIA award back in 2012 before these homes were even built. With interior courtyards, 2 car...Continue Reading!
don't let the kardashian-west-jenner fleet of cars have all the fun We've been seeing matte black everywhere from the inside of a fridge to the exterior of a Victorian claw foot. Looks like matte black is the new black. set the table Matte black dinnerware from Bed Bath & Beyond. $59.99 for a 16 piece set. You know you have a coupon. set the mood Matte black dome light from Access Lighting. Get it on Overstock.com. set it over a sink This matte black faucet by Brizo is hot. give a...Continue Reading!