Philadelphia homes for sale
Home
Jordan Brody & Co.
At Home Category
Almost all of us here at Philly's Homes are pet owners.  Even with our various household types we have all been very lucky to live in homes that accommodate our pets.  While some of us rent and some own, having a pet in the city can be very difficult.  Whether it's a landlord that doesn't allow pet's period or a home without enough space, finding your new home can be even more frustrating than usual when trying to move with...Continue Reading!
Traditional Living Room by Lincolnwood Design-Build Firms Airoom Architects-Builders-Remodelers It's been a tame winter here in Philly.  Minus one big snow storm the weather this winter has been manageable with temperatures lingering in the 30s and 40s.  Still, the chill of winter nights and the occasional below freezing days have us keeping our gloves and scarves handy.  With at least a month left of cold temperatures those who use their fireplaces have plenty of time to take advantage of the cozy...Continue Reading!
With Philly's first snow fall this past weekend, it finally feels like winter.  While the snow barely stuck to the ground, Philadelphia residents are beginning to prep for upcoming snow that may be more severe.  With 20 degree weather days and more snow on the forecast, residents are getting out their shovels and supplies.  With a little help from the Philadelphia Streets Department, we have all your snow concerns covered with tips and tricks for winter 2016. Salt: Salting your driveway and...Continue Reading!
It's officially the holiday season.  Christmas trees are being decorated, retail store sales are in full effect and wish lists are being written.  Whether you're gifting a recent home buyer this holiday season (or anytime of the year!) there are some items every buyer will be thankful to receive.  While the options are endless, we've narrowed it down to some basics we know every new home owner will appreciate. House Plants Decorating a new home after unpacking can take weeks as home buyers are...Continue Reading!
Sweatshirts and slippers are on, but still feeling the chill? It may not officially be winter yet, but we are definitely feeling the cold! Sure you can replace your windows, pay to insulate your home or even get your home heating system replaced.  But for those of us who can't afford to make costly upgrades, don't fret!  We have plenty of tips and tricks on how to keep your home cozy without using all of your holiday money. Thermostat: Buying a programmable thermostat won't...Continue Reading!
leaf collection and recycling schedule in philadelphia One of the benefits of city living is the minimal yard work for the standard townhouse.  While Philly residents generally have less outside space to take care of, even the tiniest yard can produce a decent sized leaf pile. Leaves left to pile up can cause damage to the grass and plants underneath.  If you have a patio, they are a breeding ground for bugs and pests like spiders, centipedes, ants and flies - the last thing...Continue Reading!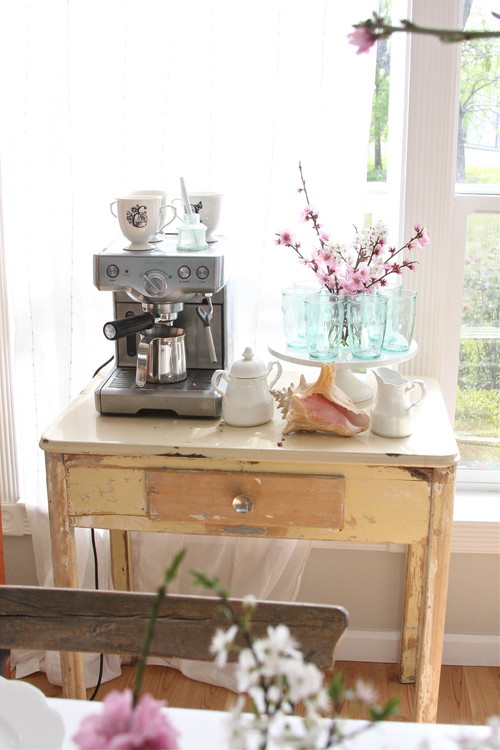 because...coffee is the best You are probably asking yourself why set up a coffee bar in your home when Philly is literally teeming with coffee shops. Like La Columbe's roastery/distillery mash up in Fishtown to Ultimo Coffee ranked America's #1 coffee shop back in 2013 by The Daily Meal & every unique spot in between. Here are my reasons. 1. You can try out new beans (like this one which you can find in a Thai elephants #2). 2. You can make killer coffee when you have visitors (unless, of...Continue Reading!
sprinkle poppy seeds around for a spring show Did you know that Valentines day is the perfect time of year to sprinkle poppy seeds in your Philly garden? Poppies need a good hard freeze to germinate. I sprinkled these varieties this time last year in the pots on my roof deck & forgot about them. I didn't think anything was happening until early Spring when I saw small little green shoots popping out all over the place. 1. Sprinkle poppy seeds in a...Continue Reading!
This year I am taking baby steps to organization starting with my spice drawer. Inspiration struck when I realized Penzey's opened up down the street at the Bourse but also because my spices were in complete & utter disarray which made cooking a huge pain in the you know what. I searched high & low for functional yet inexpensive containers & I feel like I struck gold with these tins from Specialty Bottle Co. With the  help of a friends label maker...Continue Reading!
these items are non negotiable...protect your investment! Last winter was absolutely brutal. We handle a lot of real estate & if one thing is certain extreme cold is not your homes friend. Trust when I tell you that you should do these things; if not all, at least one, two, three & four. 1. drain & insulate any pipes near the cold Pipes don't like cold. They freeze, they thaw & than they can crack. They don't even have to be outside. Do...Continue Reading!